From Irrigation to Landscape Enhancements, We're a Full-Service Commercial Landscaping Company with an Excellent Reputation
We're looking for dedicated, highly motivated landscaping professionals from all over the greater St. Louis area to join our NALP Accredited organization. With a focus on excellence in the commercial sector, The Greenwood Group has transformed the landscapes of hundreds of local businesses, HOAs, schools, and more during almost 20 years of business. It's your turn to be a part of the radically transformative processes based on communication, professionalism, and ethical work that consistently exceed customers' expectations.
No matter what facet of landscaping you're passionate about, a career with The Greenwood Group gives you the chance to dive in. We offer a diverse array of services that allows you to work on projects you're excited about contributing to, and since everything we do is commercial, your hard work will be displayed and admired on a large scale. Our flagship services include:
Since our range of services is so wide, we're not looking for cookie-cutter employees. We want you to bring your unique passions, expertise, and local knowledge to the table in order to make the maximum contribution to our team. Requirements for being part of The Greenwood Group are centered around values--we prize professionalism, ethical work, and innovation. If you're an experienced landscaper who's motivated to continue your education, try new things, and exude our essential values, you're exactly the type of employee we're looking for. Browse our available jobs below and apply to be part of our team!
Enjoy Our Flexible Family Business Culture with Competitive Pay and Ample Opportunities for Advancement
When you work for The Greenwood Group, you become part of the family. From NALP certification opportunities to a full suite of benefits, we strive to show you just how much we value your excellent work. Year-round positions, competitive pay, and unmatched flexibility are a few of the ways we treat our employees like family, and the community you'll build as a member of our tight-knit team is the cherry on top.
In addition to our emphasis on personal development and our strong culture of teamwork, The Greenwood Group's technology-focused landscaping strategies will keep you on the forefront of the field. We use only the most efficient, state-of-the-art equipment even for the simplest tasks, and we're committed to investing in innovative, tech-forward solutions for issues like sustainable irrigation and snow removal.
Just as much as we strive to take care of your needs, we expect our employees to show the same level of respect to the clients they serve. Turning off equipment when others are around, showing up on time and in uniform, and doing everything right the first time are just a few of the basic expectations we have for our team. When we stick to our core values of professionalism, ethical work, and innovation, we ensure an incredible experience for both you and the people you're serving.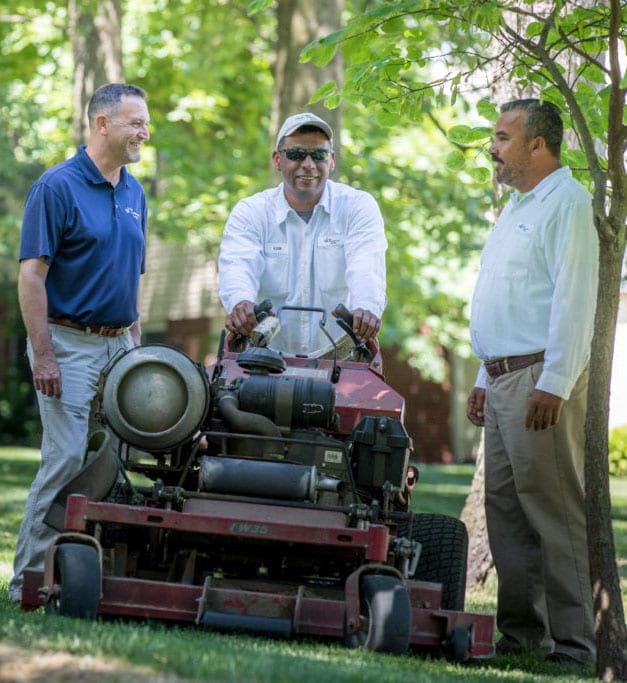 Browse Our Open Positions to Find Your Perfect Fit
The positions below represent our most immediate needs, and we encourage you to apply to any and all that seem like a good fit for your unique blend of experience, training, and interest. If none of these positions sound like a great fit, feel free to send over your resume and let us know you're interested in future positions or check back here in a few weeks to see if there's anything new that piques your interest.
Meet Our Incredible Owners, Who Have Grown The Greenwood Group from the Ground Up
Pete Schepis Sr
CEO/President, Owner and Founder of The Greenwood Group
He has over 50 years of experience in the landscaping and horticulture industry. Through his continued education in the business, Pete Sr was one of the first to be named a Landscape Industry Certified Manager for our industry. Pete loves spending time with his family & friends and loves Golden Retrievers. He also loves to travel, his favorite place is Captiva Island in Florida.
Joan Schepis
CFO/President, Owner and Founder
She has a rich, deep passion to provide full service landscape maintenance to commercial customers throughout the St. Louis and St. Charles metro area. Joan is responsible for all human resources and financial operations of the company. She holds a bachelor degree from the University of Tulsa.
Nick Sarandos
Director of Client Relations & Owner
He has over 20 years of experience in the green industry. He earned the title of Landscape Industry Certified Manager in 2013 and continues to maintain his certification through ongoing education. Nick's exceptional knowledge of the industry and development of the processes for our Client Relations team has allowed us to provide our clients with an unmatched experience.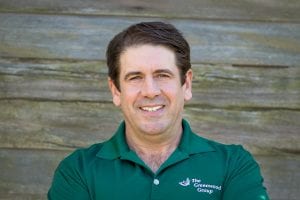 Pete Schepis, Jr.
Director of Operations & Owner
He has 25 years of experience within the green industry. Pete Jr is responsible for all operations, training, and manages our 60+ employees. Pete Jr is fluent in Spanish. His knowledge and expertise within the industry and communication skills with the men, has enabled our team to operate at the highest standard.
If you'd like to learn more about our leadership, our history, and our 60+ employees, visit our about page to keep reading.
Apply Now to Start Your Journey towards a Fulfilling Career and Modern Landscaping Excellence with The Greenwood Group
If you're excited about our mission and ready to apply for a spot on our team, your next step is to submit an application. The links above will take you to each of our currently open positions, and we encourage you to apply to any and all that fit your expertise. Above all else, we're looking for outstanding individuals who are enthusiastic about treating our customers with a high level of respect. If that sounds like you, apply today!