Weathermatic's Smart, Automated Systems Reduce Water Waste and Keep Commercial Landscapes Healthy
Weathermatic irrigation and tools are the gold standard in smart irrigation monitoring and water control. At The Greenwood Group, we provide efficient irrigation management services that use smart, innovative tools to control your St. Louis, Missouri property's watering cycles. Underwatering can leave your turf patchy and wilted and slow down the growth of your trees, plants, and hedges. It can also make your soil crack or leave your foundation vulnerable. Overwatering can be just as troublesome, leaving behind yellowing, muddy patches, and unwanted fungi or pests.

Our NALP-certified team can upgrade your current irrigation controllers to perfectly match your commercial landscape's watering needs.
With tools like Weathermatic's sensors and controllers, the system can automatically sense when the soil is too dry, when a recent rainfall saturated the soil enough to recommend less watering, and every circumstance in between. This does more than protect your plants and soil. It also reduces water waste and irrigation costs. Plus, it's an environmentally-friendly touch that can make your business even more appealing to eco-conscious customers.
See How Our an Irrigation Smart Controller and Landscaping Services Helped Other Property Owners in Your Area
We have hundreds of satisfied clients in the St. Louis County area including St. Charles and St. Louis, MO whose needs might look a lot like your own. Take a look at what some of our past clients have to say about our commitment to professionalism and the value of our services. To see how The Greenwood Group has exceeded even more clients' expectations, head on over to our reviews page.
"I have been involved with the Greenwood Group for many years going back to my days managing Brentwood Forest Condominiums and have always had good experiences with your company."  
"As head of the HOA Board of Trustees, I consider Greenwood a trusted partner in helpful Mgr manage our community. I rely on Greenwood's expertise for keeping our neighborhood looking its best."
"My association has used Greenwood for years now. Nick is a fabulous consultant to work with - gives us great advice and is always respectful and helpful! We feel we can count on the services to be well done"
"Greenwood Group does a great job. They perform the services needed to keep the property looking great and provide recommendations for any items that need to be addressed. When updates need to be made, they provide recommendations outside the box to make the landscaping pop."
"It has been a pleasure doing business with The Greenwood Group since 2008. All of the staff are polite, friendly and when you call, they answer. If you're seeking a professional landscaper with personalized service, these are the folks to call."
"We are rating a recent irrigation work order. Everything went great, Daniel found the problem quickly and rectified the problem. While on site he did a quick inspection of all the zones finding 2 more small issues and resolved them thus getting our system back online. He did a great job...thanks"
An Irrigation Smart Controller Reduces Water Waste, Improves Lawn Health, and More
Excellent irrigation services are part of the package when you choose professional landscaping services from The Greenwood Group. Our water management services include Weathermatic Smartline controllers, sensors, and mechanical irrigation tools like rotors, valves, and sprayers. This innovative equipment gives you and us complete insight into your landscape's water consumption, irrigation needs, and more. The benefits: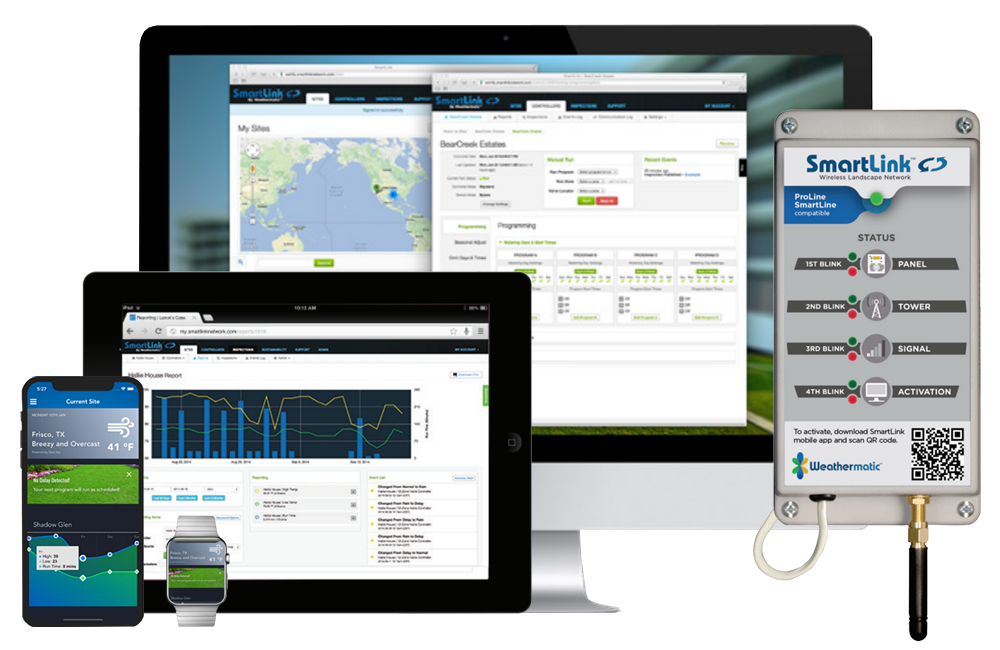 See How Professional Landscaping Services Can Beautify Your St. Louis, Missouri, Commercial Property
Browse our gallery to see how our irrigation and landscaping services keep our clients' landscapes green, lush, and vibrant.
Take the First Step of Our Four-Step Process to Start Getting Professional Landscaping, Including an Irrigation Smart Controller
Getting started with The Greenwood Group takes just four simple steps, and our strict customer service and communication standards ensure that you'll get through them as quickly as possible. After you initially reach out to our staff, here's what you can expect:
Step 1

We'll assign your project to a Client Relations Manager. He or she will ask you about your timeline and the scope of what landscaping services you need. Even if you don't know exactly what you're looking for, our expert staff is trained to spot the essential landscaping services that will maximize your curb appeal and keep your plants healthy for years to come.

Step 2

We'll schedule an on-site landscape consultation. Our team will take thorough measurements, walk around the entire property, and answer any of your questions about what services we can provide. Our streamlined yet individualized process allows us to consistently provide the superior customer service that our customers have come to expect.

Step 3

We'll create your custom proposal. This proposal will include all the details of your account and will be finished within one week of your consultation.

Step 4

We'll meet in-person to present your Landscape Maintenance Plan. Holding these meetings in person and sticking to your personalized maintenance plan are two ways that we will set your expectations high, right from the start.
The Greenwood Group Does It All for Year-Round Commercial Landscape Care and Maintenance
As a full-service commercial landscaping group, our diverse range of services is designed to cover all of your possible needs. Take a look at some of our trademark services to find the combination that's right for you.
Commercial Landscape Maintenance

Plants need constant attention to stay healthy and beautiful. Our thorough maintenance will make that process simple so you can sit back and relax.

Irrigation

Our modernized irrigation systems will effectively water your landscape while simultaneously making your water usage as environmentally and budget friendly as possible.

Tree & Plant Health Care

The first step to a beautiful landscape is a healthy landscape. Keeping your trees and plants healthy makes them last longer, saving you money and reducing your environmental impact.

Commercial Landscape Enhancements

Looking for a little something extra? Our enhancements will instantly up your curb appeal. Combine this with long-term maintenance for an unstoppable landscape.

Commercial Snow Removal

Winters in Missouri can make it tough for your customers and employees to get to you. Keep your streets and sidewalks clear with our expedient snow removal services.
Build Your Career in Water Management Services and Professional Landscape Management — Apply to Join The Greenwood Group Today
We're looking for candidates who not only know the landscaping business inside and out but are also willing to learn new skills that will make them even more outstanding. Working for The Greenwood Group means competitive pay, excellent educational opportunities, and ample chances for advancement. Visit our careers page to learn more!
Contact Our Team for Personalized Commercial Landscape Management, Water Management Services, and Professional Services
The Greenwood Group is here to help update your irrigation system, manage your commercial landscape, and keep your property beautiful. Contact us today to speak with an account manager and schedule an on-site consultation.